Bosco Wong learns bowling from Michael Mui
Saturday July 4, 2009 Hong Kong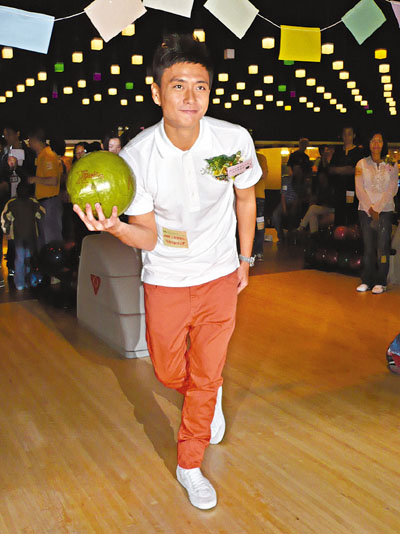 Bosco Wong, attended the "Mental Health Cup" charity bowling tournament yesterday. Being a mental health ambassador, Bosco started the tournament in the opening ceremony. In fact Bosco is a frequent visitor
to the bowling alley, and he bowls with Michael Mui "sarm(3) gor" regularly. Michael has given him a pair of bowling shoes, Bosco said "3 gor is very skillful in bowling, I have learned a lot from him. It is a pity that I have been busy working on a TV series recently and I haven't bowled for a while." Bosco had scored over 150 points before,
although it wasn't a high score, he felt it's good enough for him. Asked if he would have bowl with Myolie? Bosco said Myolie has her nails manicure and she wouldn't want to ruin them! Bosco was working on a TV series in mainland Buji, he was so tired everyday that he went straight to the hotel after work, and he hardly went out at night.
Talking about the death of Michael Jackson, Bosco said he felt being lost. He has been a loyal Jackson fan since he was a little boy. He likes following Jackson's dance. Bosco felt the entertaining world has lost a legend. Bosco revealed that he bought Jackson's concert DVD just before he died, and he is keeping it as a momentum. He reckons although Jackson's concert cannot go ahead now, he is hoping the rehearsal version of the concert can be released.
Source:Takungpao/Wenweipo(image)
Translator: R.E.D @ http://www.asianvn.com
_________________
Click this :~
http://tvbwonderfulseries-jse.blogspot.com
Advanced Members




Posts

: 85


Points

: 101


Reputation

: 0


Join date

: 2009-06-30


Location

: Malaysia





Similar topics
---
Permissions in this forum:
You
cannot
reply to topics in this forum