Source: Takungpao
Translated by: aZnangel @ http://asianuniverse.net/forums/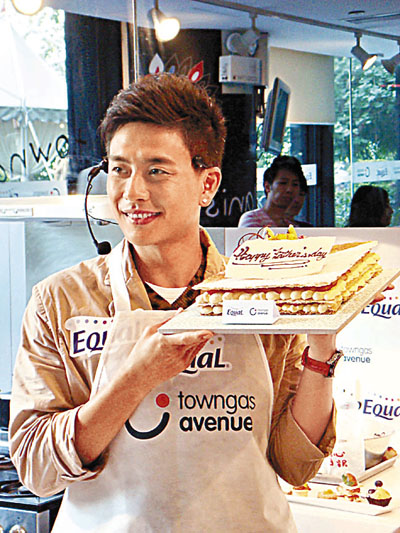 Bosco Wong said Myolie Wu made bread for him to eat before
Yesterday Bosco Wong attended low-calorie sugar (EQUAL) event and made desserts on stage live. Bosco said that he doesn't really know how to make desserts, but usually he makes fish and western dishes. He said: "Girls knows how to make cake and cookies, pretty good. (Has Myolie made them before?) She made bread for me to eat before, but desserts not really." Asked how he spent Father's Day? He expressed that his father is opening a school in the Mountain district in Mainland, so he has not celebrated with him yet. Asked if he would go to the "maternal" home (referring to Myolie's house) to celebrate instead? He said: "I will celebrate with John Chiang and Damian Lau because in series, they are both my Dads."
Zhao Lin is like an older sister
Also, there has been rumors recently that when Bosco was filming a new series "Growing through Life" in Mainland, he developed feelings for Mainland actress Zhao Lin. He immediately clarified: "She is just another artist, therefore spreading rumors during filming is quite normal. If there are no rumors, then you are not a winner." Asked if he explained to Myoile? He said: "Not necessary. (Is Myolie angry?) She actually called me and apologized to me because the rumors started when she was eating and was photographed, then dragged me into it. (Does that mean, the relationship didn't change?) Yes, the relationship that didn't change is that we are still very good friends." Bosco then immediately added that Zhao Lin is just like an older sister, she would often teach him Mandarin. Asked if Zhao Lin or Myolie is prettier? He immediately laughed: "They are all pretty."
Members




Posts

: 25


Points

: 41


Reputation

: 0


Join date

: 2009-06-19


Location

: Malaysia



how sweet (; i wished the reporters asked "for what occasion?" (;
_________________

Elite Members




Posts

: 126


Points

: 146


Reputation

: 0


Join date

: 2009-06-28


Age

: 23


Location

: San Francisco



love bosco so much!!! myolie too!
Members




Posts

: 16


Points

: 18


Reputation

: 0


Join date

: 2009-06-20




---
Permissions in this forum:
You
cannot
reply to topics in this forum