Title
: E.U. 學警狙擊(Emergency Unit)
Sequel to The Academy & On the First Beat)
Cast:
Michael Miu, Kathy Chow,Ron Ng, Sammul Chan, Michael Tse, Elanne Kong, Kaki Leung, Dominic Lam, Joel Chan
Episodes:
30
Release Date
: 16th February 2009 (to be released after
The Gem of Life
)
Producer
: Wong Wai Sing
Scriptwriter
: Chu King Kei & Leung Yan Tung
Genre
: Action/Modern/Cops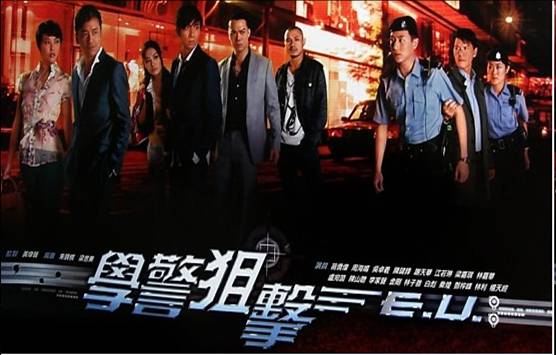 Synopsis
JIANG SHI XIAO (
Michael Miu Kiu Wai
) is released from jail in Taiwan. He returns to Hong Kong immediately and tries to find his daughter JIANG YOU YOU (
Elanne Kong
) so as to heal their relationship. By pretending to be friendly with the one who made him in jail, the gang leader TO YIK TIN (
Lam Lei
),XIAO is eager to get even with him, and also intends to draw two young policemen to his side in order to strengthen his influence. LEE PAK KIU
(
Sammul Chan
) from the Emergency Unit is reluctant to get close with a gangster while CHUNG LAP MAN (
Ron Ng Cheuk Hai
) from Special Duty Squad believes that XIAO could help them fight against TIN by acting as an informer. MAN develops a close relationshi with him gradually but he has been dismissed before accomplishing the
task. Afterwards, XIAO takes MAN under his wing and MAN devotes himself to the triad society.
TIN always put XIAO on his guard and he asks his trusted follower LEUNG SIU TONG (
Michael Tse Tin Wa
h) to keep a close eye on XIAO. On the other hand, XIAO fights back by making use of TIN's wife CHING YEUK SAM (
Kathy Chow Hoi Mei
)to strengthen his power in the gang. XIAO eventually becomes the gang leader and he believes that everything is under control. However, the drug trafficking business keeps running into trouble abnormally. XIAO begins to question the loyalties among his confidants.
Credits
: Astro On Demand
_________________
Click this :~
http://tvbwonderfulseries-jse.blogspot.com
good story but bad ending
_________________
---
Permissions in this forum:
You
cannot
reply to topics in this forum